National Airmail Week 1938
by Jeffrey Shapiro
illustrations by Roy Lingen & Jeff Shapiro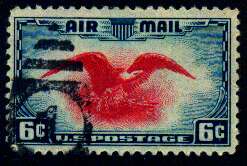 As we enter the new Millenium, nations prosper and we take for granted the stunning scientific achievements of the last century --- like our mastery of the air. With walks on the moon a distant memory and a new space station abuilding, the only time air travel is mentioned is when we complain about how late our flight was. Today, we even take for granted that most of our ordinary first class mail will travel by air !

But in 1938, the story was much different. With the world mired in the Great Depression, air transport companies were struggling, but developing. Air travel was still a novelty to many; after all, the Wright Brothers had taken their first flight at Kitty Hawk, North Carolina just 35 years before.
In an effort to help the airline companies and at the same time promote air mail service, a nation-wide public relations campaign was launched. Dubbed the National Air Mail Week (NAMW), activities were planned to honor twenty years of air mail service in the United States. Held May 15 thru 21, 1938, the goal of the organizers was to get each citizen to mail and/or receive an air mail letter during the week-long celebration.
Festivities were kicked off with the issuance of a new 6 cent Eagle multi-colored air mail stamp (Scott #C23, shown above) on Saturday, May 14th. For the next seven days, thousands of communities across the 48 States and most U.S. Territories became involved with their own local activities.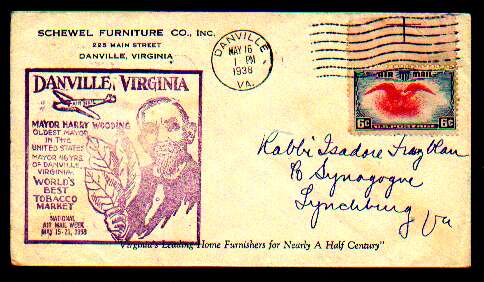 Mayor Harry Wooding, Oldest Mayor in the United States.
Mayor 46 years of Danville Virginia.
World's Best Tobacco Market
Along with all the varied local events, from the largest cities to the smallest crossroads, an estimated 10,000 individual cachets were prepared, giving each of the localities a chance to brag about the beauty, history and/or progressivism of their home towns.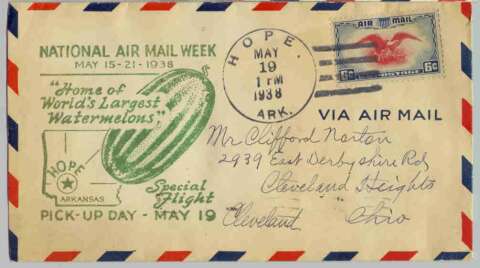 Hope Arkansas' claim to fame (before Bill Clinton was born): World's Largest Watermelons

While these cachets were available for use the entire week, most of these covers were mailed on Thursday, May 19th to be carried on special one-day-only NAMW flights, linking all the thousands of participating sites.

May 19 Flight Kitty Hawk to Dayton Ohio (the Wright Brothers' home town).
Cover has a Dayton May 20 arrival backstamp.
Many local airports were dedicated during National Air Mail Week, but if the sites had no air facilities, organizers were very creative in accomodating these special flights. Fields were cleared and back roads were closed, creating temporary runways to allow these planes to land and take-off, carrying their precious NAMW cargoes.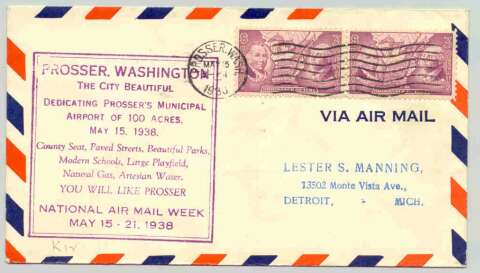 Prosser Washington - a new 100 acre airport and paved streets!
Miraculously, weather delayed only a few flights, and only one of the special flights crashed. No one was hurt, and the covers were safely delivered by motor car !!
A few years ago, NAMW covers could easily be found in dealers' "junque" boxes. As more and more collectors discovered these little examples of local pride, these covers became harder to find, but with new varieties discovered regularly, the hunt for these covers can be fun and rewarding !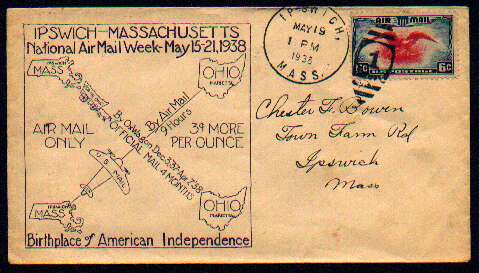 Ipswich Massechusetts cachet celebrating 100 years of progress.
4 months to Ohio by oxcart in 1838, 9 hours by airplane in 1938.
Jeffrey may be reached at: coverlover1@yahoo.com